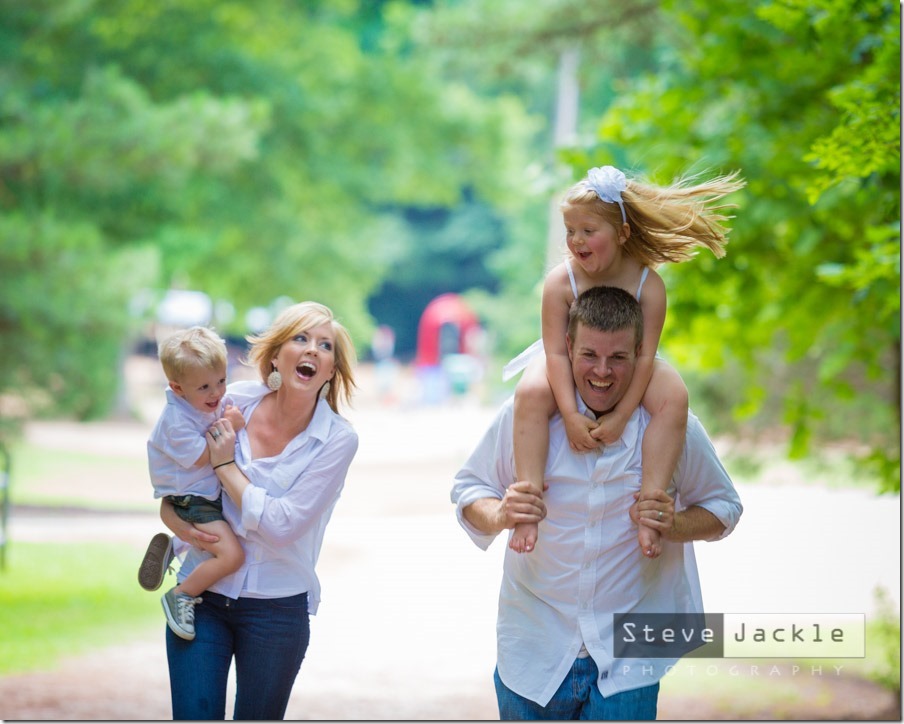 One of my goals as a family lifestyle portrait photographer is to make the photography session a laid back and fun experience especially for younger kids.  Like many adults including me, they tend to enjoy playing more than posing. The parents and I were on the same page regarding the approach.  We put our heads together to figure out creative ways to entertain the kids so I can capture them at their essence.
For this session, we headed to Raleigh's Durant Nature Park.  The park has a nice playground, a couple of lakes, and hiking trails.  A perfect setting for kids and adults to get lost in an enjoyable experience and forget that I am there taking pictures.  For example, the image above was captured when I suggested that they should race toward the camera. It shows natural smiles and a family moment focused on fun.
Back in September of 2010,  I headed to Winston-Salem's Reynolda Gardens to capture this family when their oldest daughter Ella Grace was center of their world.  Now Ella Grace has become a big sister to her younger brother Lathan.  The parents ensured the kids were fed and rested before the session. They also brought some snacks, clothing changes, and couple of their favorites toys.  One of the first goals was to get the kids comfortable by heading the playground for play time. I typically start out my session with this type of approach.  This allows me to capture images from a distance using my telephoto lens and allow the children to become accustomed to me with my big camera pointing at their faces.
Below is an image of my new buddy Lathan having a turn on the swing set during this warm up stage.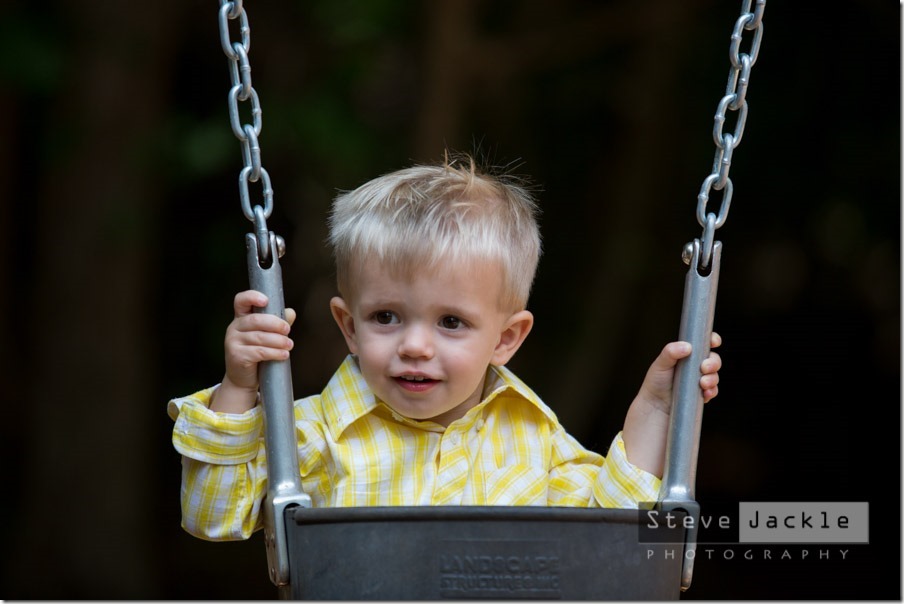 The playground cylinder was another good place to hang out and getting Lathan used to the setting.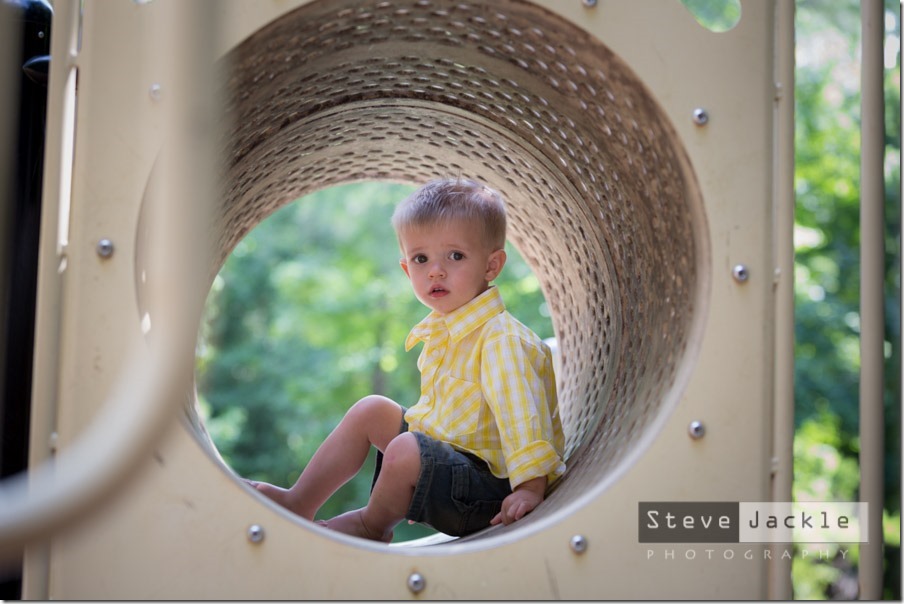 At the suggestion of Ella Grace, we headed down a hiking trail  "looking for bears."   We found a stream that probably would be a good place for bears to drink from (at least that is what we told Ella Grace).  I love this shot of the kids waiting for the "bears" to come and watching their father throw stones into the water to add a splash effect.



Very early on I could tell that Lathan was a mommy's boy. Well, that is understandable especially if you meet his mom. Great lady! Cool kid!



Nothing beats a game of peek-a-poo while riding on your fathers shoulders. Just ask Ella Grace!

Ok, now this one I do not quite understand.  Both parents are NC State graduates. Why did they bring these Carolina blue flowers for the shoot?  I am very cool with it!  Both my wife and I are UNC-Chapel Hill grads.  LOL. 

The twirl Ella Grace style!

"Toss the kid" brings smiles all around.  

Lathan loves the doggies!  We spend a little time hanging with various dogs throughout the session. This little puppy was one of the highlights of his day.

The backdrop of nature is an excellent choice for candid photos of a child …

… and quiet calming moments between a mother and her son.

The Durant Park docks are just the right height for moms and daughters to touch the water below …

and spend a moment solving the worlds problems together.

They also can be a place to learn about the fishes in the comfort of a mothers embrace.


These are good times in the life of a lifestyle portrait photographer too.  I have a chance to peek into a families lives and see their relationships if only for a few hours on a Sunday afternoon. This families love warms my heart. I can wait until we do this again.